From abandoned farmland to solar farm
Abandoned farmland in Lancaster, California, is now home to the 20-MW Western Blue Sky Ranch Solar Farm, and building the project came with challenges—including dealing with Burrowing Owls-but Rosendin Electric was able to deliver the project on ti
By Diane Mettler
Solar farm installations face a number of challenges—securing financing, working through logistics, and finding local contractors. But it's not often that a rare owl is one of the challenges.
That's what Rosendin Electric Renewable Energy Group of San Jose—who was contracted by S-Power (Sustainable Power Group) to design, engineer, and construct a turnkey project in Lancaster, California-ran into with that particular project.
Western Blue Sky Ranch is a 20-MW solar project on a single-axis tracking system built on approximately 145 acres of abandoned farmland at the far west end of Lancaster, in northern Los Angeles County. As part of the project, Rosendin also constructed a 20-MW substation designed to expand to 90 MW.
David Lincoln, director of solar operations for Rosendin, says the size of the project was fairly standard—many of their current projects are in the 20-MW range.
The job was originally scheduled to start in early February 2013, but due to several design changes and permitting issues, construction didn't get underway until mid—July 2014. The completion date-November 14, 2014-didn't change though, and Rosendin had just four months to turn the desolate desert farmland, with no facilities, into a highly productive solar plant that would be a significant contributor to the power grid in this area.
The PV system was chosen based on the components that worked best in that location and provided the highest performance, explains Lincoln. "We look at the tracking solutions, the inverters, and the modules. And with regard to modules, we find a module that performs best in that geographical area. With a selection of two or three modules, we then go to market with an RFP and see who presents the best price."
As construction got underway, Rosendin turned to skilled subcontractors, including:
W.A. Rasic Construction for grading, civil work, and trenching
Granite Construction Co. for installation of the structural support piers and trackers
A&A Fence Co. Inc. for fencing
Marina Landscape Inc. for the landscape work
Rosendin also looked to local talent as well.
"We're a union contractor, so the majority of our workforce comes out of the union hall," says Lincoln. "Typically, they're trained already, but prior to starting work, we run them through our safety program. It covers things like how to handle the modules, what to do if you come across a rattlesnake (everybody has to wear snake chaps), and other safety issues in regard to heat stroke and hydration."
As soon as the project got underway, with a deadline looming, a serious challenge presented itself—an endangered species.
"The site was inspected by a biologist in early February and found to be clear of any endangered species. However, due to the delays in starting the job, by the time we actually mobilized, Burrowing Owls had moved onto the site," says Steve Sanford, senior project manager.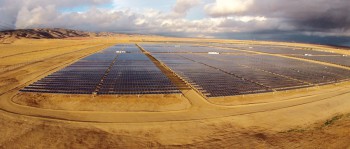 The Western Blue Sky Ranch solar project was built on 145 acres of abandoned desert farmland at the far west end of Lancaster, in northern Los Angeles County. Construction crews on the project had to deal with intense wind speeds and extreme heat, with temperatures reaching more than 105 degrees.
The discovery required Rosendin to perform several additional measures to avoid and protect the owls' nests from harm. A few of these measures included protective borders around the area of the nests; re-sequencing the flow of the job; additional education for all employees and subcontractors; and an onsite biologist viewing the birds during construction to ensure activities didn't disturb them.
"The biologist was onsite every day monitoring," says Sanford. "Eventually they knew when the owls left the nest, so then we took the fencing down around that area and continued our work."
Burrowing Owls don't return to the same nest, so construction over the old nests wasn't an issue. Maybe with luck, the owls will return. Lincoln says the panels would provide shade for them.
Owls were only one of the challenges. Rosendin dealt with extraordinary weather conditions during construction. The crews had to battle extreme heat, with temperatures reaching more than 105 degrees, as well as wind speeds so intense that it shut down the project at least four times. The crew also had to deal with dust caused by the wind, requiring them to hydro-mulch the site and continuously water the area to prevent dust migration. Lastly, lightning caused the shutdown of the project on at least two more occasions.
Despite the owls, the high temperatures, the dust, and the lightning strikes, the team moved forward.
During the peak of construction, there were approximately 200 workers on site, with approximately 20 to 25 people in Rosendin's prefab shop in La Palma, California.
The team installed:
a 20-MW AC Substation
20 Advanced Energy 1000NX Inverters
Dura Track HZ 57 Tracking Systems from Array Technologies Inc.
78,432 Jinko JKM305P solar modules
200 SolarBOS combiner boxes
Rosendin took the short construction time in stride. As one of the largest EPCs in California, it knows how to roll with the punches.
Lincoln says that constructing the attached substation in conjunction with the solar project was a little different, but now the company offers that as a service, so they are seeing more and more of it. "A lot of our clients are coming to us with all-encompassing EPCs, where we do all the substations, the transmission lines, and the installation along with the solar array. We're engineering the whole package for them."

Rosendin Electric Renewable Energy Group had just four months to turn the desolate desert farmland, with no facilities, into a highly productive solar plant that is now a significant contributor to the power grid in the region.
Even with the owls and the rough weather, the project came in within budget and on time, on November 13, 2014. "Overall the project ran extremely efficiently due to our team, pre-planning, and great subcontractors," says Lincoln.
Now that the project is complete and power is flowing to the grid, Rosendin will continue to monitor the facility. Whether the company will continue to maintain the facility is yet to be determined.
"We have an O&M division for the clients that ask us to maintain projects, which can be anywhere from 20 to 25 years," says Lincoln. "Usually the client will let it run for a year or two, because there's a warranty involved with it. After the warranty has expired, typically they will then come to us to provide a price for the O&M."
When Rosendin does monitor, it's from a web-based system that can be monitored internally. "We set up the parameters for any faults that may occur and then they're categorized in priorities, whether you need to roll right away or it's something you can fix at your next maintenance or whatever it may be."
As Rosendin Electric completes these large-scale projects, they are getting close to a large milestone—one GW of installed solar.
"We're close; maybe by the end of the year," says Lincoln. "The funny thing is, I was one of the original five who started the solar group about six-and-a-half years ago, and when we were awarded our first 500-KW project, we were thrilled to death."
Lincoln continues, "And then we won a one-MW project, and we were popping corks and celebrating—it was great. Now we're just wrapping up a two-and-a-half year project, a 458-MW project for Mid-American Sun Power, and it's the world's largest solar project. We're thrilled to be part of that."
Of course, Rosendin is pleased to be involved with the Lancaster solar project, as well.
Lincoln adds that although they are excited to continue growing, they don't forget where they came from. "The five of us, by default, were asked to get into solar. We were all estimating and deciding who was doing what. We were truly an electrical subcontractor at the time, but over the years, we found our niche as a true EPC. We do all our engineering and procurement and construction in-house and self-perform 85 percent of the work. It went from a $3 million a year company to north of $120 million—and that's just for the solar—in a short period of time."
The company still works as a team, even though the initial five employees have since grown to 52, with 500 people out in the field.
"No one person knows it all," explains Lincoln. "We all play off each other's strengths and weaknesses, and collectively we really put together a great company."
Rosendin has evolved with the ever-growing solar industry. Future evolutions in the industry will no doubt mean changes for the company. What possible advances are around the corner?
"I think you'll eventually see storage and solar combined," says Lincoln. "We're starting to see some of it now, so we've been hiring some talented individuals who have played in the storage market before. We're starting to engineer solar systems with storage in them."
In the meantime, Rosendin is going to throw a party. They're going to celebrate one GW of solar and hundreds of successful projects like Western Blue Sky Ranch.