Good solar bet in Nevada
The 17.5-MW Searchlight solar project is a good bet on solar power in Nevada, and it was helped along by declining material costs and state incentives.
By Tony Kryzanowski
Despite the recent drop in fossil fuel prices, development of utility-scale solar and wind power continues at a steady pace. A major driver behind this investment is that the cost of renewable power components and construction has come down considerably over the past five years.
The $45 million, 17.5-megawatt Searchlight solar power project, some 50 miles south of Las Vegas, is just one of many new renewable power installations that have recently come online. In May 2014, the project was acquired by an affiliate of D.E. Shaw Renewable Investments L.L.C. (DESRI) from the original developer, American Capital Energy Inc.
"While this may sound like a reasonably small project in the overall scheme of a state or an economy, there are enough of these projects that they are collectively having a pretty big impact on the overall power market," says Bryan Martin, managing director and head of U.S. Private Equity for the D.E. Shaw Group. "I see a lot of investment coming into renewable energy."
Martin adds that DESRI believes that this is a "very good trend," as older coal-fired power plants in the U.S. are replaced.
"The more solar projects we have, the more the costs should come down for everyday customers," says Martin. "That is a trend we believe will continue." DESRI is a major investor in both solar and wind projects throughout the American Southwest, with projects in Nevada, Arizona, and Southern California.
Martin says DESRI has a positive long-standing relationship with American Capital Energy and respects its ability to find, advance, and develop quality projects.
That's part of what attracted DESRI to the Searchlight project. In Martin's view, Searchlight not only has good economic fundamentals, it also meets the needs and desires of the local community for more renewable power generation.
Completion of the Searchlight solar power installation also represents another successful project for EPC contractor, Signal Energy Constructors. It is a subsidiary of one of America's largest general contractors, EMJ Construction.
"The cost of solar installations is about half of what it was three years ago," says Ben Fischer, CEO of Signal Energy Constructors. "The module pricing, all the equipment pricing, and installation costs are becoming much, much better. So, overall system costs continue to come down." Additionally, construction workers are becoming more skilled at installing projects, with Nevada and Southern California having some of the best programs for training workers.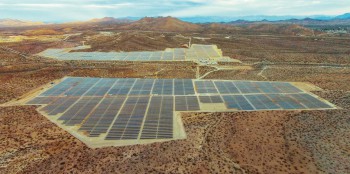 In addition to being EPC on the Searchlight solar project in Nevada, Signal Energy is providing operation and maintenance services. Searchlight took about six months to construct and came online at the end of 2014.
With overall costs coming down significantly, the boundaries of potential economically viable projects have expanded, especially in areas like the American Southwest where there is an abundance of solar-rich land available for development.
Reduced project costs have allowed developers to consider larger projects, which in turn influences the economic viability of projects because of the benefits of economy of scale. Fischer says that this places companies like Signal Energy Constructors in a good position, with its niche focus on utility-scale renewable energy projects.
"A few years ago, a typical project might have been in the 10 to 20 megawatt range," he says. "Now, it's not uncommon to have 20, 40, 100, and even 200 megawatt projects." Larger projects can deliver an efficiency dividend by providing the opportunity to install 800,000 solar panels in one location versus 40,000 panels on smaller projects.
D.E. Shaw Group's Bryan Martin says that in addition to the more favorable economics for solar and wind projects, the retirement of older, coal-fired power plants is helping to drive investment into renewable power.
"We are seeing a large replacement cycle happening all across the U.S. for utility-scale power plants," he says.
Martin adds that he believes renewable projects make economic sense at a fundamental level in many U.S. markets-even without subsidies in many cases- because the fundamental drivers to invest in renewables now go beyond the desire to combat global warming or the need to meet state-mandated renewable power benchmarks.
"To the extent that it is possible to do well by doing good for the planet, investment in renewable energy certainly makes a good business choice for us," says Martin.
Fischer says that what's also helping to make the case for utility-scale, renewable power investment is oil and natural gas price volatility.
"No financial advisor would suggest that you should put all your money into oil futures," says Fischer. "The way to look at renewable energy is like bonds in your portfolio, because you can-with very good predictability-know over a period of 20 years what your energy costs are going to be."
He says that is something that the oil and gas market will never be able to provide.
Like many areas of the American Southwest, the arid environment surrounding the community of Searchlight, Nevada, presented an ideal location for a solar installation. The 250-acre site was easy to tie in to existing transmission infrastructure, and being south of Las Vegas, it has access to attractive energy markets in both Nevada and Southern California. With the abundance of natural sunlight in that location, it also made sense to invest the extra capital cost in a tracking system because of the extra power that would be generated.
In addition to acting as EPC on the project, Signal Energy is providing operation and maintenance services. Searchlight took about six months to construct and came online at the end of 2014. The power generated by the tracking solar installation is being sold under a 20-year power purchase agreement to NV Energy and provides enough power for about 5,600 homes.
The State of Nevada provided tax incentives for the project, which helped the original developer, American Capital Energy, secure financing and move the project forward. When DESRI came on board, it helped to finalize that financing.
| | |
| --- | --- |
| | |
| The arid environment surrounding the community of Searchlight, Nevada, presented an ideal location for a solar installation. The 250-acre site was easy to tie in to the existing transmission infrastructure, and being south of Las Vegas, it has access to attractive energy markets in both Nevada and Southern California. | |
| | |
The Searchlight solar installation received a three-year sales and use tax incentive, as well as a 20-year property tax incentive as part of the Governor's Office of Energy (GOE)Renewable Energy Tax Abatement Program. According to the GOE, the tax incentive amount granted to the Searchlight solar project was $4.6 million over the incentive period, adding that the total amount that Nevada stands to gain from the project is $50 million, or an 11-to-1 return on the incentives it is providing. That includes the capital investment of $45 million and $5 million that project owners expect to pay in property taxes, school support taxes, and jobs. During its construction, the Searchlight project provided more than 180 jobs, mostly with workers from local communities.
"The Searchlight Solar facility is a result of Nevada's commitment to the development and exportation of renewable energy, by removing barriers and developing better business models that benefit our ratepayers," says Paul Thomson, GOE director. "Nevada excels at renewable energy development because of streamlined permitting, modern infrastructure, and enhanced incentives that prove to developers around the world that Nevada means business."
Martin says that while incentives like this are rarely a critical factor to the economic viability of renewable projects, he believes they do attract investment because they demonstrate the level of local support.
"In the areas where we are building, incentives are reasonably common," he says. "In the areas where we don't see that kind of support, it's not just the tax incentives, but also the permitting and other issues that present obstacles. All kinds of things have to happen to bring commerce into a state, and we have found Nevada to be a great place to work."
Jinko Solar provided the solar panels for the Searchlight project, and Array Technologies Inc. (ATI) provided the racking system, which is a single axis tracking system. Bombard Electric, a large, local electrical contractor with solar installation experience, was hired for the electrical construction work. Applied High Voltage provided the power substation.
From a construction standpoint, among the biggest challenges faced by Signal Energy was planning work around the summer heat in this desert environment.
"That is a major factor that comes into play when building these solar projects," says Fischer. "We take extra precautions to make sure that the workers have adequate water and shade available and adjust the working hours with the work accomplished in the less sunny and hot hours of the day."
DESRI is an active player in utility-scale renewable power development in the American Southwest, with more than 16 projects that they own, operate, or have under construction.