Medline adds to solar with Massachusetts project
Medical products supplier Medline is building on a solid record of solar power, recently completing a 6.7 MW rooftop project in Massachusetts.
By Tony Kryzanowski
Medline, a major global supplier of medical products, is not only working hard to provide medical practitioners with the tools they need to heal patients. The company is also playing a role in helping to heal the planet with recycling programs and a major investment in rooftop solar power production.

This Illinois-based company, which is the largest, privately-held manufacturer and distributor of medical supplies in North America, recognizes the amount of medical waste being generated every day by health care facilities it supplies. It is also well aware of the amount of energy its many facilities—such as large distribution centres—consume from such conventional sources as fossil fuel-based power plants.

In 2016, Medline officially launched its Corporate Social Responsibility (CSR) program, although it had
already been developing programs to reduce waste streams for some time.

Medline developed a number of successful ongoing initiatives through CSR from providing eco-friendly options in medical supplies to offering recycled options for single-use medical devices to collecting surgical gloves to use as fuel in generating renewable energy. It's estimated that the recycling program alone has reduced the amount of medical waste ending up in landfills by over 450 tonnes per year.

Over the past year, the CSR program has expanded its focus to become an Environment, Social and Governance (ESG) program, applied on a company-wide global basis.

"In terms of private companies that are doing what we are doing, we are certainly ahead of where others are in our sector regarding operational and distribution sustainability initiatives," says Jim Burgess, Director of Sustainability at Medline. "There are no other companies out there matching what we are doing in LEED buildings, solar installations, and efficiencies in our transportation fleet."

It was back in 2016 that the company recognized that it had an opportunity to significantly reduce the amount of greenhouse gases (GHG) its facilities released into the environment. The roofs of their many distribution centres represented literally hundreds of thousands of square feet of empty space, making them perfect candidates for rooftop solar installations to offset the power they were consuming through conventional sources.

That year, the company installed its first rooftop solar array at a distribution centre in Japan. Since then, their portfolio has expanded to nine rooftop solar arrays on buildings in the United States, Australia, Germany and Japan. By the end of 2022, the company's investment in solar power grew to over $40 million, including a rooftop solar installation on its headquarters building in Northfield, Illinois.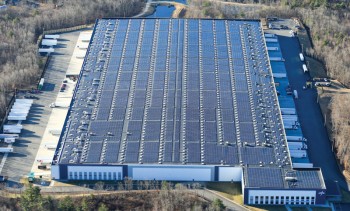 The 6.7 megawatt Uxbridge rooftop solar array covers about 840,000 square feet. The Uxbridge solar array is said to be the largest single rooftop installation in Massachusetts.
Bob Abrams is Corporate Purchasing Director at Medline and is responsible for all rooftop solar projects in the U.S. He emphasizes that the company is very strategic in where it makes its investments in rooftop solar power generation. First and foremost, it must make financial sense.
"If the project is financially do-able, we'll do it," he says. "We own all our buildings so we're ready to go any time that it is financially feasible. We are definitely interested in doing more."
Essentially, in addition to helping the environment, Medline wants to make sure that it can recover its construction costs and reduce its power bills. It's working: the company saved $1.6 million in its electricity costs at its U.S. facilities between 2018 and 2020 where rooftop solar was installed.
Burgess says that while generating solar energy is great for the planet, Medline is also reducing the cost of its operations in the long run, in addition to reducing its GHG emissions and environmental footprint.

"Being environmentally friendly doesn't have to be a 'cost of doing business'," he says. "There are so many things that we do at Medline that are environmentally sustainable that don't cost more. In fact, they reduce costs. Solar is a great example of that."
Medline's energy consumption costs will continue to drop considerably as new projects come on line. The company is marking an important milestone in 2023, tripling its solar power generation capabilities since 2020.
"We've been able to reduce our usage of purchased electricity on each of these projects, reducing those costs enough to make it pay to install solar," Abrams says.
Most recently, Medline constructed two, large rooftop solar arrays at two new distribution centres in Montgomery, New York and Uxbridge, Massachusetts. This brought the company's total rooftop solar footprint to four million square feet with installation of about 60,000 solar panels.
| | |
| --- | --- |
| | |
| | Medline's Massachusetts rooftop solar array consists of a combination of Hanwha 425 W and JA Solar 385 W monofacial modules, installed on PanelClaw ClawFR fixed-tilt racking. |
| | |
The 6.7 megawatt (MW) Uxbridge rooftop solar array covers about 840,000 square feet. Both the Uxbridge and Montgomery arrays are believed to be the largest single rooftop installations in each state.
It's estimated that the $10 million Uxbridge array alone will offset 5,700 tonnes of carbon dioxide emissions per year. This represents the equivalent environmental benefit of reducing consumption of more than 630,000 gallons of gasoline.
Over the past seven years as Medline developed its rooftop solar portfolio, it formed a close working relationship with PowerFlex, an EDF Renewables affiliate, as its primary project developer. PowerFlex has been the engineering, procurement and construction (EPC) provider on all of Medline's projects in the U.S.
Abrams says what Medline appreciates about PowerFlex is the level of detailed project analysis its team is able to provide prior to making a financial commitment, taking into account the jurisdictions where a potential project could be installed while also taking full advantage of local, state and federal credits.
Going forward, this will include the incentives available under the new Inflation Reduction Act (IRA), passed in 2022.
"The IRA has opened up some potential," says Abrams, with three additional projects that could be given the green light this year.
Lily Whitehouse, Director of Customer Programs at PowerFlex, says that for example, the IRA allows its customers to take advantage of a 30 percent investment tax credit (ITC) again, which has a significant impact on project economics. As the details of the ITC unfold, such as clarification on the issue of domestic content in projects to qualify for more credits, the ITC could be even higher, making even more Medline projects economical.
In anticipation of the potential for using its building rooftops for solar, Medline has been adding an additional 8 lbs per square foot of structural capacity at its facilities over the past decade.
| | |
| --- | --- |
| | |
| The roofs of Medline's many distribution centres represented literally hundreds of thousands of square feet of empty space, making them perfect candidates for rooftop solar installations to offset the power they were consuming through conventional sources. | |
| | |
"Medline is ready for solar anywhere it works," says Whitehouse.
In each of the company's rooftop solar projects, the generated power is used directly by the Medline facility, in some cases offsetting 100 percent of the facility's power consumption from conventional sources, with the Uxbridge distribution centre being the exception. In that case, the generated power is tied into the transmission grid operated by National Grid, and Medline receives a credit for the amount of renewable energy it generates as a qualifying facility under the state's Solar Massachusetts Renewable Target (SMART) program. The solar array is actually producing more power than is required by the Medline facility.
"The SMART program is the reason why we were able to max out the use of the rooftop," says Whitehouse, describing the Uxbridge solar array as a mini-power plant for National Grid.
Once complete, a portion of the power from the Montgomery rooftop solar array will also be exported to the grid, with 60 percent of the generated power provided to residential subscribers and 40 percent used at the Medline site.
The Uxbridge rooftop solar array consists of a combination of Hanwha 425 W and JA Solar 385 W monofacial modules, installed on PanelClaw ClawFR fixed-tilt racking. The installation includes 50 SolarEdge inverters with optimizers. Warshauer Electric provided the AC equipment. Commonwealth Electric was the electrical subcontractor on the project. Once the project is operational, PowerFlex will use Boulder, Colorado-based AlsoEnergy for array operation and data acquisition software related to solar power generated. A proprietary PowerFlex data portal gives Medline access to real-time reporting and data transparency.

Construction on the Uxbridge project began in May 2021 and the project is poised for commissioning with the project itself having been completed. Like many other projects in many industries these days, Medline has experienced supply chain challenges that have impacted the construction horizon, including major upgrades needed to connect to the National Grid transmission system that are near completion.
There is regular communication between Medline and PowerFlex to discuss business cases that the EPC has developed for Medline's many facilities. Once Medline approves the financing of a project, PowerFlex is able to develop the project design in-house. Whitehouse describes the EPC as 'technology agnostic', choosing the best technology at the best price when seeking bids to supply specific projects.
"With the IRA and the domestic portion of that, we will especially continue to use manufacturers situated in the U.S.," Whitehouse says. "It is going to become increasingly important that we use U.S. manufacturers." The company already used a number of American-based suppliers on the Uxbridge project, even though it wasn't required, including the racking system, AC equipment, and data acquisition software provider.
"We try to buy domestically whenever we can," Whitehouse says. "That will become easier in the future in the post-IRA period for sure with more (domestic) plants opening."
Q1 2023