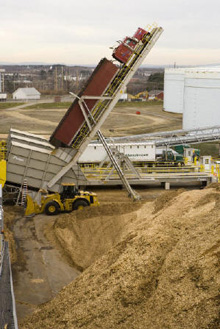 Wood chip power
Public Service of New Hampshire has made the move to renewable energy-and significantly reduced emissions-with the $75 million conversion of a coal-fired power plant to a biomass power plant that is fired with wood chips.
By Tony Kryzanowski
The potential nose-dive in nitrogen oxides, mercury and sulfur dioxide emissions is not the only reason why Public Service of New Hampshire (PSNH)-the last remaining regulated power utility in New England to still own generation facilities-has invested $75 million to convert a coal-fired power plant to wood chips. But it was a good one.
The Northern Wood Power project has cut nitrogen oxide (NOx) emissions by 70 percent, mercury emissions by 90 percent, and sulfur dioxide (SO2) emissions by 95 percent, through the conversion of one of PSNH's three power generation units at its Schiller Station facility from burning coal to burning wood chips. The Schiller Station at the coastal city of Portsmouth had operated three 50-megawatt coal-fired steam boilers since the 1950s.
The Environmental Protection Agency has set a NOx emission limit of .15 pounds per million BTUs of energy produced. The wood-fired boiler at Schiller Station is operating at .075 pounds per million BTUs. "We've cut the limit number in half," says Dick Despins, station manager.
It would appear that new legislation brought in by several New England states is having a positive impact by encouraging new power plant construction and plant conversions in the region based on using renewable fuels.
Despins says legislation in neighboring Massachusetts requiring local utilities to provide a portion of their power from renewable energy sources was definitely a primary driver behind the decision by PSNH to convert one of the three power generators. The legislation helped to create a market for what are called Renewable Energy Certificates (RECs). Rather than investing in new "green power" facilities themselves, conventional power suppliers have the option of purchasing RECs from green power producers that qualify under the rules established by state legislation. This has particularly benefited states like New Hampshire and Maine, which have a surplus of wood biomass because of vibrant local forest industries, but lack the local energy demand to justify investment in wood-fired power production.
Selling RECs will help to pay for the plant conversion at Portsmouth, and PSNH estimates that between 300,000 and 400,000 RECs will be generated annually by the converted power plant.
"According to the guidelines in Massachusetts, if you install a fluidized-bed boiler and burn wood, you may qualify (as a REC marketer)," says Despins. "That was the basis for us to go forward. It sparked what we have today."
The company's investment in a wood chip-fired boiler will also help it meet new renewable energy portfolio standards legislated this year by New Hampshire. Beginning in 2008, a small percentage of the power producer's energy production must come from renewable energy sources.
The $75 million invested by PSNH at Schiller Station was used to construct a new, 110-foot high, fluidized-bed boiler; emissions control systems; a covered wood chip storage facility capable of holding 10,000 tons of wood chips; a wood unloading and handling system; and a covered conveyor to deliver the chips to the boiler.
The power utility concluded that retrofitting an existing facility would be more cost effective than building and staffing a new facility. The Schiller Station is also located near important major transportation routes.
The decision by PSNH to construct the Northern Wood Power project was also good news for the local economy considering that the new boiler is expected to consume more than 400,000 tons of wood annually. It created a new market for residual wood, which had been on the downswing.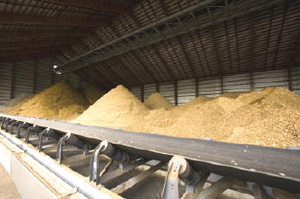 In addition to building a new fluidized-bed boiler and emissions control system, PSNH's capital investment at its Schiller Station went towards a covered wood chip storage facility capable of holding 10,000 tons of wood chips (above) and a covered conveyor to deliver the chips to the boiler.
In many cases, trees and wood debris removed during development and thought to be unsuitable for producing forest products ended up in landfills or were disposed of by land spreading. A significant amount of debris is also generated from conventional logging operations. It comes as no surprise, therefore, that the New Hampshire Timberland Owners Association was an early supporter of the project.
"It's not a market where the loggers will earn their living," says Despins. "It just adds value to the whole process."
Forest companies could produce marketable products from sawlogs and smaller pulp logs. However, there was a significant amount of branches, treetops and general residual wood that wasn't finding a market. Also, not all tree species are suitable for producing wood products. The demand created by the power plant conversion has helped to create a market for that wood fibre.
"Being a New Hampshire company, we started to look at what role we could play to help that declining sector of the timber industry," says Despins. "It's a fairly large component of the state economy."
Other groups supporting the project included the New Hampshire Audubon Society and the Society for the Protection of New Hampshire Forests. This northern New England state is the second most forested state in the U.S., next to Maine, with 84 percent of its landmass covered with trees.
What makes the emissions reduction possible at the Northern Woods Power plant is the fluidized-bed boiler technology. PSNH explains that unlike typical "stoker grate" boilers where wood chips are simply burned as they pass along a rolling grate, the fluidized-bed boiler circulates the wood chips and burns them while they are suspended in air within the combustion chamber. This process burns fuel more completely, dramatically limits the production of nitrogen oxides and other emissions, and captures any unburned carbon compounds for further combustion.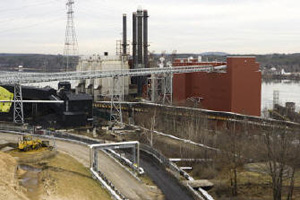 Public Service of New Hampshire's investment in a wood chip-fired boiler at its Schiller Station facility (right) will help the company meet new renewable energy portfolio standards legislated by New Hampshire.
The new boiler system more efficiently converts water to superheated, high-pressure steam, which in turns spins the turbines to generate electricity.
While the environmental and economic dividends to the local economy are obvious, with an estimate that the project will contribute $20 million to the local economy, Despins says using wood chips as the fuel source is definitely more challenging. There are more variables to take into consideration with wood, as compared to coal. For example, because the power plant has 65 wood chip purchase agreements, many of which fit within the "Mom and Pop" supplier category, the attributes of one load versus another can be quite variable. The moisture content can vary from one source to another by as much as 10 percent, whereas moisture content in coal doesn't change much beyond two percent. Hardwood chips also produce more BTUs than softwood chips. So depending on the wood chip mix, the BTU output from the feedstock mixture can also vary.
The wood chip size is also important. The boiler can accept a chip up to 2.5 inches in size and screens generally ensure that only chips up to this size are burned. However, occasionally a larger size piece of wood manages to fit into a screen opening, which can disrupt fuel flow.
Fuel cleanliness is important. Suppliers are expected to ensure that any pieces of debris, particularly metal, are removed from the chip load. The power plant also uses magnets to catch any metal pieces before they enter the production flow.
Plant personnel received special training in the operation of the Northern Wood Power plant to get familiar with the fluidized-bed technology and with the state-of-the-art distributing control system.
Despins is pleased with how well the wood burning technology has worked and how well operators have progressed along the learning curve since the plant came on line in December 2006. The 50 megawatts produced by the plant will continue to provide power to about 50,000 New Hampshire homes.
The combustion system is capable of burning bark, but at this early stage of operation, PSNH has opted to stick with clean wood chips.
"We're burning mostly whole tree chips just to try to maintain a little bit of consistency with the fuel for a period of time until we get comfortable with the variables of using wood," says Despins. About one percent of the clean wood products the plant has consumed have been chips produced from used pallets.
Before the power producer committed to converting one of its coal-fired boilers, it had to ensure that it could access an affordable and long-term supply of wood fibre. The North American forest industry itself has been experiencing significant competitive pressures from around the world, resulting in a number of facility closures. However, PSNH evaluated how well the industry has adapted in the past and felt confident that the wood chip supply would remain adequate into the foreseeable future.
"Pulp and paper is not as prominent as it once was but the chip industry has shown an ability to weather various changes in the market with wood values," says Despins. Based on the company's evaluation, it discovered that the state grows more trees than it harvests in a year.
PSNH has signed one-year contracts with its suppliers, which provide it with short-term security of supply. Suppliers are also content to not be locked into a price over the long term.
While it is unlikely that more conversions will occur at Schiller Station, because of its location on the seacoast and the limited geographical area from where it can draw wood chips, Despins says the company is on record stating that it is very interested in constructing one and possibly two more wood-fired power generating plants. However, current state law prevents PSNH from expanding its generation portfolio, so legislators would have to change the law for that to occur.
November/December 2007