Utah ups solar power production: The state of Utah has upped its solar power considerably, with the completion of the 104 MW Utah Red Hills Renewable Park solar project--the state's largest solar power project. Built by Swinerton Renewable Energy, and developed by Scatec Solar, the project uses an Array Technologies tracking system, JinkoSolar panels, and Advanced Energy inverters.
Pueblo solar power: Renewable Energy Systems (RES) recently wrapped up construction of the largest solar facility in Colorado, near Pueblo--and the biggest solar project east of the Rockies: the 156 MW Comanche Solar Project.
Bog delivers solar power: S&C Electric faced some interesting and different challenges on a 1.2 MW solar power project in Massachusetts which was built at a cranberry bog, with the solar panels installed directly above the bog.
Icing the wind power cake in Quebec: EDF EN Canada has completed a number of wind projects in the province of Quebec, but the 350 MW Rivière-du-Moulin wind farm is kind of icing on the cake, being Canada's largest wind power project-and the largest onshore wind project ever built by EDF Energies Nouvelles world-wide.
enerG Focus on Operations & Maintenance (O&M) : enerG reviews the companies involved in Operations and Maintenance, and the services they offer.
Industry Experts Feature: enerG puts pressing energy-related questions to industry experts. In this issue we asked our experts this question: How can contracting out O&M on a renewable energy project deliver cost savings for the project's owner, and maximize returns on these very substantial investments?
Guest Column: ExxonMobil's Gary Hennigan on why the key to long-term lubrication performance involves selecting a wind turbine oil that is formulated with the right mix of advanced base oils and additives to deliver the required performance over many years, without the need for additive top treating.
Guest Column: Environmental measurement company Vaisala talks about the key role of monitoring in solar applications, and its importance to the economic performance of a solar project.
For the Record : It's time for the U.S. to seize the clean energy revolution-and shoot for 50 percent clean energy by 2030, says California Congressman Scott Peters.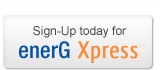 The monthly e-newsletter to compliment our print issue
First issue was released
September, 2009