Solar Power—Solar Sandwich: Weather and Nor'easters aside, a solar-friendly environment is attracting investment to Massachusetts, including Green State Energy's recently completed 4 MW project in the town of Sandwich.
Solar Power/Fuel Cells—Connecting up renewables...in Connecticut: The State of Connecticut has had some significant renewable power initiatives recently, with the largest solar power system in the state being commissioned, and the Bridgeport Fuel Cell Park, the largest fuel cell power project in the U.S.–located on a reclaimed brownfield—coming online.
Wind Power—and the web: EDF Renewable Services' Spinning Spur wind power project in Texas is not only large, but it also has a big backer in Internet search giant, Google.
Solar/Wind Power—All in, on renewable power: With a new 3 MW solar power system, and a wind power system already in place, the seaside town of Scituate recently became the first community in Massachusetts to be 100 percent powered by renewable energy.
Leaders in Energy Storage: Game-changing energy storage projects are being deployed throughout North America, providing a diverse new tool kit for addressing today's grid challenges. Nine Energy Storage North America (ESNA) Innovation Award finalists are announced in this issue of enerG. enerG will also publish the list of award winners in the September/October issue, on October 1st. The winners will be honored at the 2014 ESNA Awards Ceremony on October 1st, during the Energy Storage North America Conference and Expo in San Jose, California.
Focus on Battery Systems: A review of the important, and fast developing, systems and technologies in Battery Systems.
Guest Column: Jeff Spies of Quick Mount PV on Solar Roofing Best Practices.
For the Record: John Rogers of the Union of Concerned Scientists cites seven reasons to celebrate a clean energy future, including that solar power in the U.S. is thriving, and that the U.S. is on track to potentially install more solar than the world leader, Germany, for the first time in 15 years.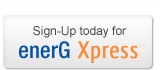 The monthly e-newsletter to compliment our print issue
First issue was released
September, 2009