Building Blackspring Ridge brings challenges :Building the largest wind farm in western Canada-EDF EN Canada's 300 MW Blackspring Ridge wind project-brought some challenges, including working with a significant network of collector lines from oil wells on the site, but EPC contractor Mortenson Construction was able to execute, and bring the project to successful completion.
High temps for California solar project :Fluor Corporation faced some hurdles in building the Centinela solar project in California, one of the largest solar projects completed in the U.S. in 2014,including temperatures well over 100 degrees.
Small wind sites-big opportunities: Four Nova Scotia wind projects totaling 24 megawatts are demonstrating how smaller projects can together create a sizable wind portfolio, and add value to the community.
Tight time frame for Wisconsin solar project : S&C Electric faced a particularly tight time frame and some extremely cold weather when it took on building Wisconsin's first stand-alone utility scale solar power project-but it was still able to bring the project in on time and on budget.
enerG Focus on: Wind and Solar Farm O&M : enerG takes a look at the companies involved in O&M at large wind and solar farm facilities.
Wind Power Fast Facts: enerG's authoritative listing of the largest wind power projects in North America, and the leading U.S. states and Canadian provinces in wind power.
Ask the Energy Experts : enerG's new feature involves asking experts at three leading companies involved in renewable energy a topical question of interest to enerG readers.
In this issue we asked our experts this question: What do you feel are the key areas that need to be covered in dealing with local governments, and residents, in developing/building a renewable energy project?
Guest Column :The importance of stable renewable energy policy, from Kevin Borgia, of wind energy advocacy group, Wind on the Wires.
For the Record : The wind power Production Tax Credit isn't about politics-it's about people, says Mary Anne Hitt, Director of the Sierra Club's Beyond Coal Campaign.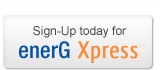 The monthly e-newsletter to compliment our print issue
First issue was released
September, 2009