Ivy League college goes for solar power: Cornell University, a member of the top notch Ivy League group of colleges, has installed its first large scale solar project, a 2 MW project which is part of an overall effort by the university to replace fossil fuel energy with renewable energy and achieve carbon neutrality.
Ford focusing on solar power: The Ford Motor Company is partnering with Michigan utility DTE Energy to build and operate one of the largest solar projects in the state--including the second largest solar carport in the U.S. Midwest--at Ford's world headquarters in Dearborn, Michigan.
More wind power for Minnesota Power: Minnesota Power has completed commissioning of the latest phase of its Bison Wind Energy Center. The 205-megawatt expansion, built by Wanzek Construction, makes it the largest wind farm in North Dakota and ranks Minnesota Power as one of America's top-10 wind power-owning electric utilities.
Algonquin Power expands wind power capacity in Western Canada: Algonquin Power has expanded its wind power capacity, with a new joint venture wind power project with utility SaskPower in the province of Saskatchewan, built by Signal Energy, which will add to the 25 percent of Saskatchewan's power production that already comes from renewable resources.
Adding storage to solar, wind power: Invenergy, the largest independent wind power producer in the U.S., has recently added a storage facility, using a BYD battery system and built by contractor Henkels & McCoy, to an already completed 210 MW wind farm and a 20 MW solar power facility.
enerG Focus on Insuring Renewable Energy Projects: Renewable energy projects can be operating in unusual, and sometimes very challenging, settings, meaning that insurance products must be carefully designed by the insurance companies involved to meet the full needs of the renewable energy project's developers, builders and owners. enerG looks at some of the key insured risks and environmental issues associated with renewable energy projects.
Ask the Energy Experts: enerG's new feature involves asking experts at three leading companies involved in renewable energy a topical question of interest to enerG readers. In this issue we asked our experts this question: Where do you see the solar power industry in 10 years' time, in 2025? What will be the major changes?
Solar Power Score Card: enerG Magazine's authoritative listing of the major solar projects in North America, and the leading U.S. states and Canadian provinces in solar power generation.
Guest Column: The future of renewables is bright with energy storage, says guest columnist Robert Morgan, chief strategy officer at Renewable Energy Systems in the Americas, as grid-connected energy storage technologies are booming, with storage deployments in the U.S. expected to grow 250 percent in 2015.
For the Record: The U.S. is at the tipping point on climate change and large companies, like Walmart and Google, which have made significant advances with renewable energy, need to up their game in Washington, D.C., says Rhode Island Senator Sheldon Whitehouse.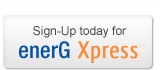 The monthly e-newsletter to compliment our print issue
First issue was released
September, 2009