Citizens for solar power: Citizens Energy Corporation, headed by Joseph P. Kennedy II, recently threw the switch on a 2.5-megawatt solar array in on a landfill in Westfield, Massachusetts, turning an unused municipal property into a generator of clean, green renewable energy.
Lockheed Martin goes solar in the Sunshine State: Advanced Green Technologies has completed a 2.25 MW carport solar project in Florida which will deliver significant cost savings for aerospace and defense company Lockheed Martin-and the company now has the bragging rights to having the largest private solar array in the Sunshine State.
Aloha to solar power : A new 12 MW solar project-complete with a 6 MW battery storage system-built on the Hawaiian island of Kauai is helping the state in its move to renewables, and its long term goal of producing 100 percent of its electricity from renewable energy.
More wind power for major energy producer North Dakota: North Dakota is a major oil producer these days, but the Prairie state is also a leader in wind power, with the most recent project--Allete Clean Energy's 107 MW Thunder Spirit Wind Farm, powered by Nordex wind turbines--now delivering clean energy to Montana-Dakota Utilities.
enerG's Focus Feature … Batteries, Energy Storage: enerG looks at the exciting products in the fast-evolving business of batteries and energy storage.
Industry Experts Feature: enerG puts pressing energy-related questions to industry experts. In this issue we asked our experts this question: What key attributes are customers looking for from your product, and how does your company deliver on those expectations?
For the Record : New York will be tapping into the full range of clean technologies to meet the new 50 percent renewables goal, says Anne Reynolds, executive director of the Alliance for Clean Energy New York.
Plus… On the Wire, Advances, Numbers …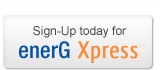 The monthly e-newsletter to compliment our print issue
First issue was released
September, 2009