Solar/wind power combo for Arizona: The Red Horse 2 solar/wind project in Arizona is one of only a handful of utility scale combined solar/wind projects in the U.S., and it came with a few different challenges for the contractors involved in building the project.
College level solar power: Power Options has teamed up with Bristol Community College of Massachusetts to create the largest solar parking canopy in New England, a 3.2 MW project on the college's Fall River Campus.
Landfill solar power: RBI is one of the main suppliers for the 11.1 MW Kinsley power project, a 32 acre solar project built on a closed landfill in New Jersey, and built by Conti Enterprises.
enerG Focus Feature on Solar Panels: enerG reviews the latest technology and developments in solar panels.
For the Record: Don't pull the rug—and plug—out from renewable energy Iowa's Sen. Chuck Grassley, a long term supporter of wind power, says Congress should work for a responsible transition for the wind production tax credit, and a sensible policy for those who depend on it.
Plus… On the Wire, Advances, Numbers …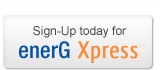 The monthly e-newsletter to compliment our print issue
First issue was released
September, 2009