Good solar bet in Nevada: The 17.5 MW Searchlight solar project is a good bet on solar power in Nevada, and was helped along by declining material costs and state incentives.
Familiar ground for building wind power:RES Americas was returning to familiar ground when it built the 267-MW Tucannon River Wind Farm for Portland General Electric—it's the sixth wind power project constructed by RES in the adjoining Columbia and Garfield counties in southeastern Washington State.
Megawatts for Maryland: A recently completed 2 megawatt energy savings project in Maryland has delivered the largest solar canopy project at an Army installation in the U.S., with California-based Baja Construction Co., designing and manufacturing the carport structures in conjunction with Albuquerque, New Mexico-based DPW Solar.
From farmland to solar farm: Abandoned farm land in Lancaster, California is now home to the 20 MW Western Blue Sky Ranch Solar Farm, and building the project came with challenges—including deals with burrowing owls—but Rosendin Electric was able to deliver the project on time, and on budget.
Solar Power—what a difference a decade makes: enerG Magazine has now entered its 10th year of publishing—and the alternative energy industry has seen tremendous growth and advances in that time. enerG takes a look at where solar power was 10 years ago—and where it is now.
enerG Focus on Energy Storage: Devices that can store energy for use at a later time have developed rapidly to meet the rising requirement for energy, and the U.S. is on the cusp of a breakout year for energy storage. enerG takes a look at some of the highlights of what's happening in energy storage in the U.S.
Guest Column: Scott Foyer, National Practice Leader, Travelers Inland Marine, notes that as anyone who has ever built a wind or solar installation can attest, obtaining insurance for the project can be challenging--but it is just as important as securing financing. Investors will not give the "green light" to a project until they know their investment is protected by insurance.
For the Record: It's time for Republicans to show national leadership on clean energy, says Michele Combs, a former Chairman of the South Carolina Young Republicans and Young Republican of the Year.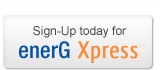 The monthly e-newsletter to compliment our print issue
First issue was released
September, 2009