Southern goes west for wind power: Major utility Southern Power chose to go west for its first owned wind facility, a 299 MW wind project in Kay County, Oklahoma-the largest single phase wind farm in Oklahoma, powered by Siemens turbines-which was developed and is operated by Apex Clean Energy.
Head office solar in Ohio: Downtown Toledo is now home to an iconic renewable energy project with the recent completion of a 2.4 MW solar facility-one of the largest solar installations in the U.S. Midwest-at the headquarters of Owens Corning.
Major solar MWs for Missouri: Major utility Ameren Missouri recently completed the company's first solar center, and the largest investor-owned utility scale solar facility in Missouri, a project featuring 19,000 solar panels covering more than 19 acres which generates 6 MW to the utility's grid.
North American Wind Power Fast Facts: enerG Magazine's authoritative feature on the leading U.S. states and Canadian provinces in wind power, and the largest wind power projects in the U.S. and Canada.
enerG Focus on…Wind Turbine & Components: Wind turbine equipment manufacturers and suppliers experienced a busy year in 2015, and more of the same is expected this year with the extension of the Production Tax Credit-and the industry is responding with new and improved technology. enerG takes a look at what's new in the market.
Industry Experts Feature: enerG puts pressing energy-related questions to industry experts. In this issue we asked our experts this question: Where do you see energy storage, as part of the renewable energy picture, in five years' time? What needs to be done to help spur its development with renewables?
For the Record: It's time to take clean energy to the bank in Virginia, Connecticut, New York and...other U.S. states, says Sarah Dougherty, of the Natural Resources Defense Council.
Plus… On the Wire, Advances, Numbers …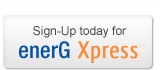 The monthly e-newsletter to compliment our print issue
First issue was released
September, 2009