Super solar project :Solar industry supplier and developer Hanwha Q CELLS undertook doing a solar power project on an EPA Superfund site in Indiana without government incentives, and the 10.8 MW project is now delivering green power to Indiana Power & Light.
A true (solar) farm :A new 4.25-MW solar project near Charlotte, North Carolina is different on a number of fronts, including the use of sheep as vegetation control on the 20 acre site.
Thumbs up for just-in-time wind power :DTE Energy and contractor Barton Malow took an innovative method in building the 112 MW Echo Wind Park in the Thumb region area of Michigan, using a just-in-time approach that is well-established in the state's auto industry.
Parking-and solar power :Solaire Generation faced an extremely tight timeline in installing the largest garage-mounted carport system in the northeast U.S., but they crossed the finish line and completed the Massachusetts project in record time.
enerG Focus on Solar Meters & Monitoring :enerG takes a look at the companies involved in the equipment that does a lot of the measuring in the solar space: Solar Meters and Monitoring.
Guest Column :Aluminum is forging the framework for solar power, says Jason Weber, the Director of Business Development for Energy and Industrial Products at Sapa Extrusions North America.
For the Record : Renewable energy represents the greatest business opportunity in history, says Jim Heckman, Robert Little and James E. Jones of the Physicians for Social Responsibility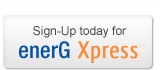 The monthly e-newsletter to compliment our print issue
First issue was released
September, 2009