Rolling Hills adds whopping amount of wind power: The completion of the Rolling Hills wind project in Iowa marks a significant milestone for Mortenson Construction, with Rolling Hills being its 100th wind power project. Rolling Hills also added a whopping 443.9 MW of wind power to MidAmerican Energy's renewable portfolio.
Campbell's Soup takes big spoonful of solar power: Food company Campbell's Soup has taken a big spoonful of PV power, with the installation of a 9.8 MW solar power system at its Napoleon, Ohio, facility, said to be the largest food production plant in the world.
NJ solar project faced severe weather—and an earthquake: Lincoln Renewable Energy ran into some big time weather building the 10 MW New Jersey Oak Solar project including Hurricane Irene blowing through, followed by a snowstorm in October—and an earthquake.
Kansas wind project packs a punch: TradeWind Energy's 200 MW Caney River wind project in southeastern Kansas packed a punch when it came to delivering economic benefits to the local community.
North American Wind Energy Fast Facts: enerG has the important numbers in wind energy, from the top U.S. states and Canadian provinces in wind power, to the largest wind power projects.
Ramping up renewable energy storage with wind project: AES Energy Storage recently completed a 32 MW integrated battery-based energy storage project at the 98 MW Laurel Mountain wind project in West Virginia, said to be the largest battery installation attached to the power grid in the continental United States.
Guest Column: Marie Schnitzer of AWS Truepower on how independent reviews of large solar projects can uncover associated hidden risks—or confirm confidence in a project.
Focus Feature on … large wind turbines: Round up of the latest products and technologies with large wind turbines.
For the Record: It's time for the U.S. to develop an energy plan—and stick to it, says Alaska Senator Lisa Murkowski.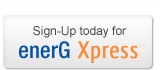 The monthly e-newsletter to compliment our print issue
First issue was released
September, 2009