Solar Power-Solar trio on Arizona project: What started as a modest-sized solar project in Arizona for agricultural services firm Gowan Companies eventually grew to 5.9 MW, and now includes three types of solar installs: rooftop, carport and ground-mount.
Solar Power-Big Apple goes big for solar: The Ross Solar Group recently completed New York City's largest rooftop solar project, a 1.56 MW system for Jetro Cash and Carry that includes a supervisory control and data acquisition (SCADA) system that allows utility Con Edison to remotely monitor and control the system.
Wind Power-Northland Power opts for island wind power: Northland Power's 60 MW McLean's Mountain wind project on Manitoulin Island on Lake Huron in Ontario--the largest freshwater island in the world--involved some interesting logistics on the part of contractor White Construction, in terms of building, and getting equipment and components to the site.
Wind Power -Newest wind farm in wind-rich Oklahoma: Oklahoma's new 235 MW Chisholm View wind project-the largest single phase wind project in the state-definitely had some challenges in that it has to transport low-cost renewable wind energy across three transmission systems. But that Oklahoma-generated wind power is now being used in thousands of homes in Alabama.
Solar Power: The largest solar farm in Georgia-and one of the largest solar power projects in the eastern U.S.-involved some major civil work and getting through some tough weather, but thanks to advanced planning, the project was finished ahead of schedule. Phoenix Solar AG, the German-based parent company of Phoenix Solar, which built the project, noted it is the largest solar power system that Phoenix Solar has built world-wide in its 14 year history.
Solar Power Score Card: enerG Magazine's authoritative listing of the major solar projects in North America, and the leading U.S. states and Canadian provinces in solar power generation.
Guest Column: Energy Storage Risk - With thousands of megawatts of energy storage systems expected to be built over the next five years, Chris Cioni of GCube Insurance Services Inc. talks about determining the risks with energy storage projects.
Guest Column: Larry Turner, CEO of Hannover Fairs, Inc., talks about how attendees can learn all about export, investment opportunities and new solutions at the upcoming CanWEA 2014 conference and trade show, Canada's largest annual wind energy educational and networking event, being held October 27-29 in Montréal.
For the Record : Wind turbines are things of beauty, says Dr. David Suzuki, a scientist, broadcaster and author, who says he would gladly share the view from the porch of his cabin off the west coast of Canada with a wind farm.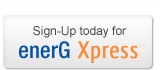 The monthly e-newsletter to compliment our print issue
First issue was released
September, 2009